Case Studies
Path in Newbury, Berkshire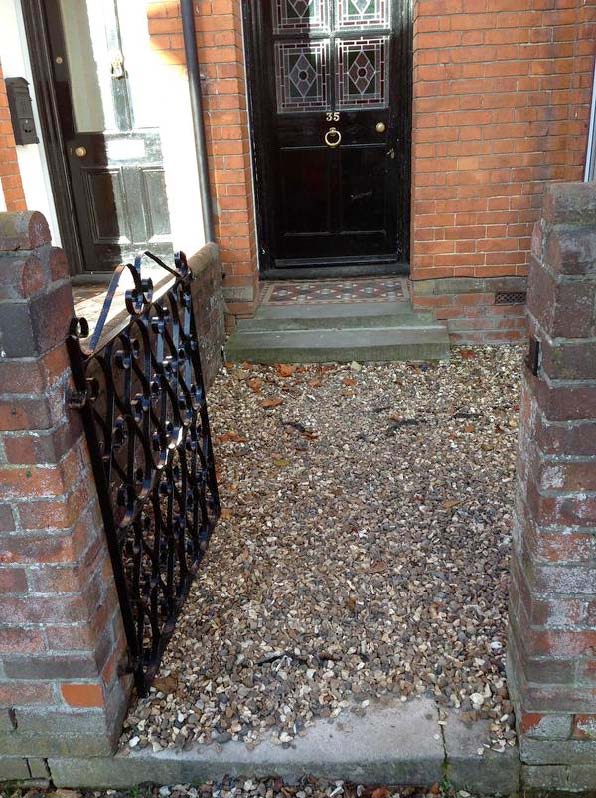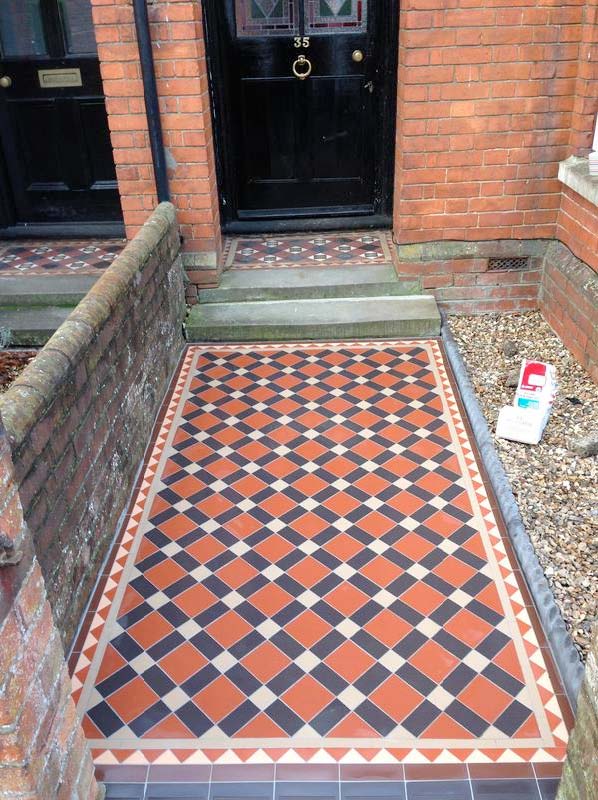 Mr & Mrs D's Victorian semi-detached had a lovely original tiled porch and a front door with stained glass but the gravel path was by contrast very unremarkable. With a desire to keep any work on their property sympathetic to the original era, Mrs D began to investigate the possibility of installing a geometric tiled path that would further improve the look of the property frontage and would tie in with the original tiled step.
She found Victorian Floor Tiles website through an internet search but was also recommended to them by a tile retailer, so decided to invite them to quote.
"We didn't want to copy the porch exactly but wanted the same colour palate and we needed some advice and confirmation that what we wanted to do would work OK. David came over and we talked though a number of possibilities."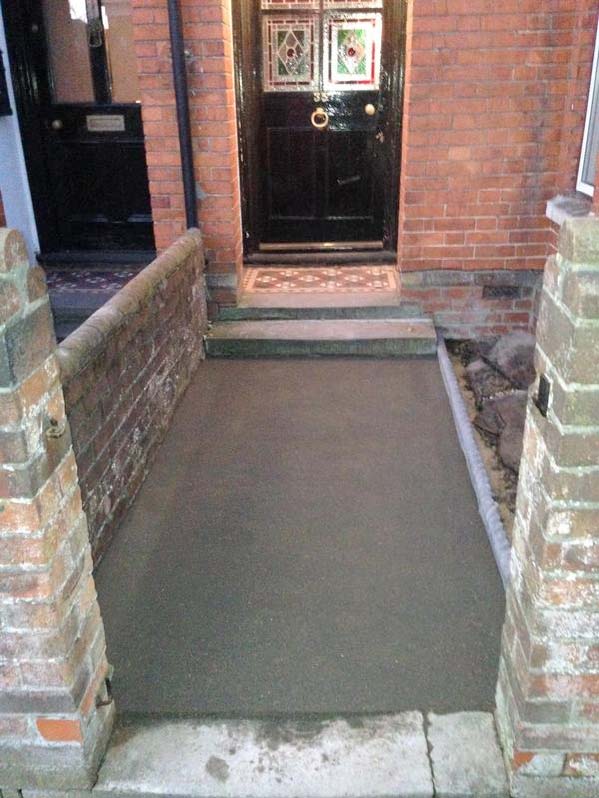 Before any tiles could be laid a suitable base was needed, so Victorian Floor Tiles provided separate prices for laying a new concrete base and for the tiling work. The quote was accepted and the tiles ordered.
The loose gravel was removed from the new path area and the soil excavated down to a sound base. Traditional style rope-top edging was used to create a separation between the path and the rest of the gravel. The concrete base was laid to the exact dimensions of the finished tiled path. After a period for drying out and curing, the tiling could begin.
Despite the basic rectangular shape, setting out for the tiles required several drylayout trials and measurements to make sure that the intricate pattern and border would be symmetrical and finish on full and half tiles all round.
A primer was applied to the base and tile fixing commenced. As work progressed there was great interest from passers-by, glad to see traditional skills and artistry returning in their neighbourhood. The weather was cold, so the new work was covered and protected from the overnight temperature.
The final challenge was to match the front edge of the tiling to the original stone threshold. Over time this had shifted and sunk at one end, so the new concrete had to be shaped and the tiles gently sloped down at the junction with the step to blend in. Finally, two coats of sealer were applied and the job was complete.
"We liked David's explanation, care and attention to detail and we love the path!", said Mrs D.
Product Information
Tiles:
Original Style's "Victorian Floor Tiles" range
Supplier:
Caversham Tiles
Edgings:
Bradstone rope-top blue/black
Primer:
Weber PR360
Adhesive:
Benferflex Rapido
Grout:
Mapei Medium Grey
Sealer:
Universeal Rapid All-in-One
Contact
David Larsen at Victorian Floor Tiles
Phone:
07817 087941
Web:
www.victorianfloortiles.com
Twitter:
@victoriantiles
Email:
david@victorianfloortiles.com