Case Studies
Hallway in Caversham, Berkshire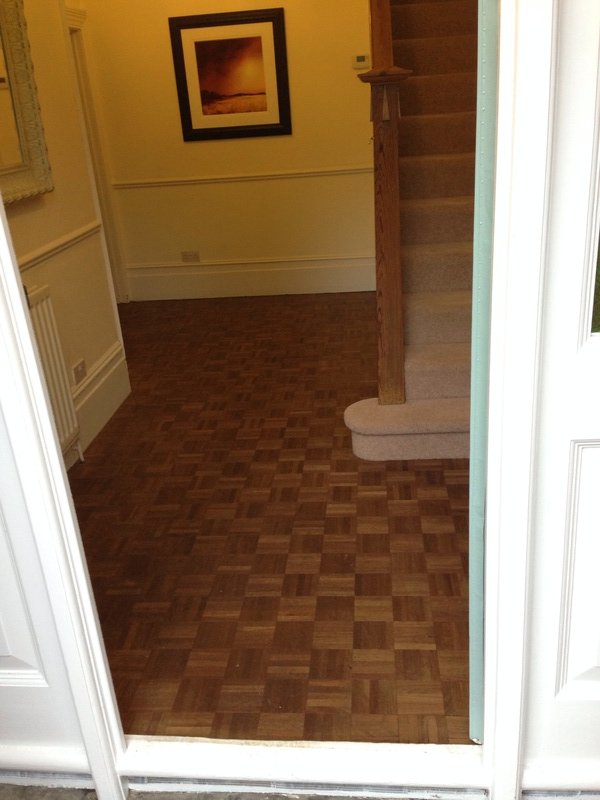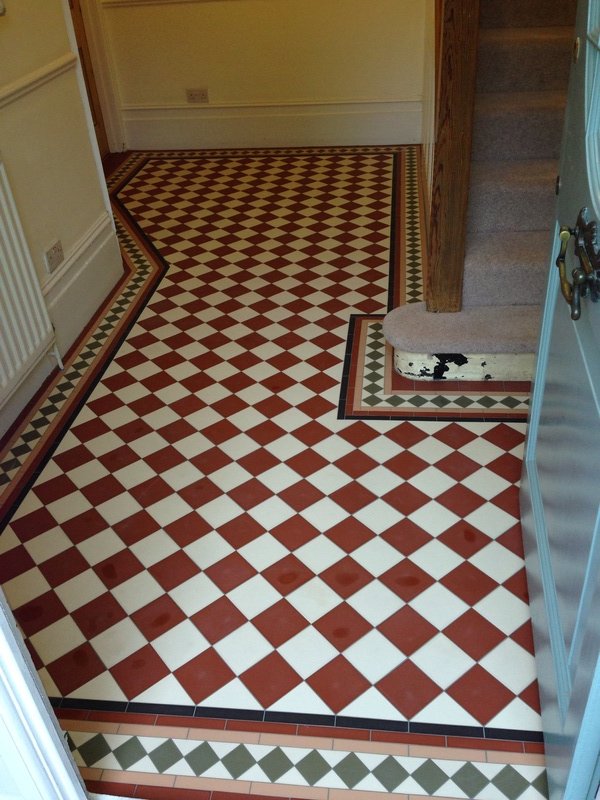 Mr & Mrs B live in an impressive late Victorian property, with many original features. The hall floor, however, had been laid by a previous owner in a fairly low-quality DIY parquet wooden tile. Not only was this incompatible with the magnificent character of the property, it was also dark, dull and difficult to keep clean.
Mrs B contacted David at Victorian Floor Tiles following a recommendation on a local Facebook forum, looking for ideas and costs on installing a traditional geometric tiled floor:
"We had some basic ideas about what we wanted to do but needed some advice on what designs would work in the space and, of course, the potential cost."
An initial consultation took place at the property to go through options for patterns and colours from as well as taking measurements to test out possible tile sizes and border widths. Victorian Floor Tiles then provided a fixed price quotation based on the outcome of these discussions.
"We thought this floor would be a good investment in our home because it would become part of the fabric of the building," said Mr B, "so we asked David to go ahead."
The first phase of the work was to lift the parquet tiles and hardboard backing, including removing hundreds of nails and staples from the floorboards underneath. The condition of the floorboards and stability of the floor were checked and found to be sound, so the next step could begin.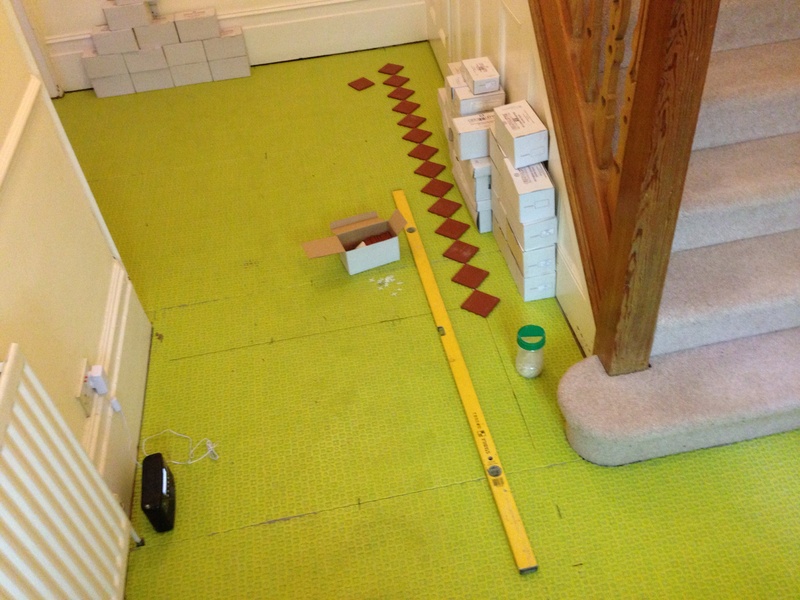 A primer product was applied to the floorboards. Then Durabase decoupling membrane was cut to size and fixed to the boards using a flexible tile adhesive. Durabase is a separation layer that prevents slight movement in the timber substrate transferring to the tiles. Once the Durabase was down, the complex process of setting out the tiling began.
As with all old properties, walls are rarely perfectly parallel or square, so setting out usually involves several 'dry layout' trials and measuring, to make sure that once the tiling is complete it will be centralised, symmetrical and pleasing to the eyeline.
Tile fixing began, using rapid setting adhesive, as David explains:

"Although it's more challenging to the tiler using rapid set for this intricate work, I always use it because it enables work to be done in sections and walked on 2 hours after laying. The majority of this work is in 'foot traffic' areas such as paths, porches and hallways, so the work needs to be protected and customers need access to their property."
Work progressed steadily and was completed within the projected timescale and at the price originally quoted.
"We could see the picture building day by day and once the work was fully completed we were delighted with the result," Mrs B commented.
"David was always thoughtful working around us and our young family. He did a great job and we'd have no hesitation recommending him to others."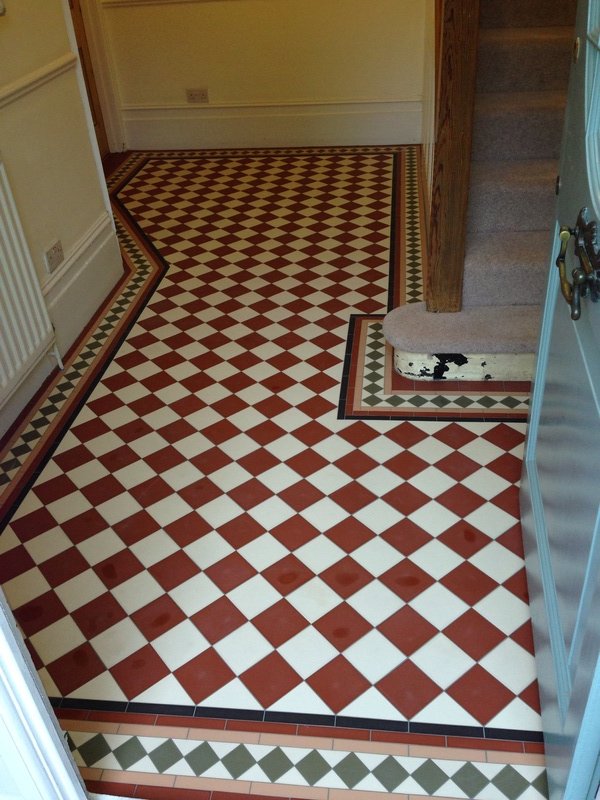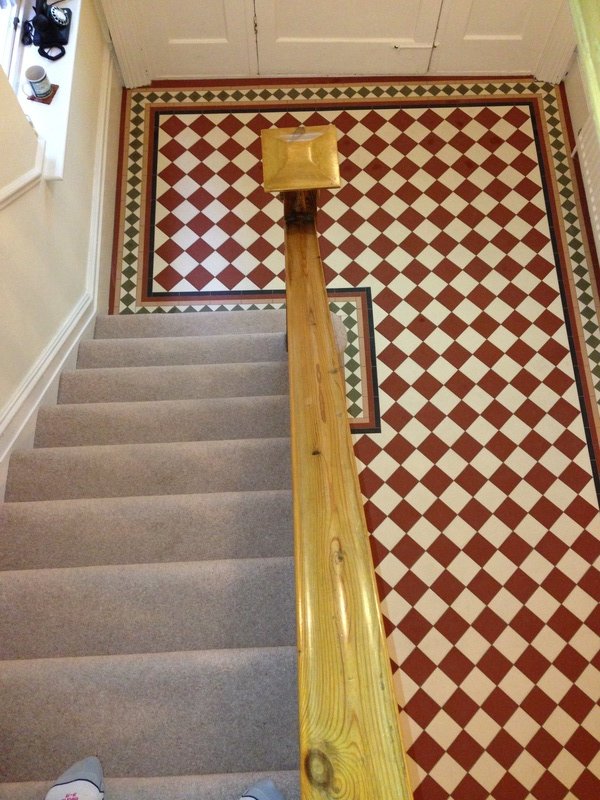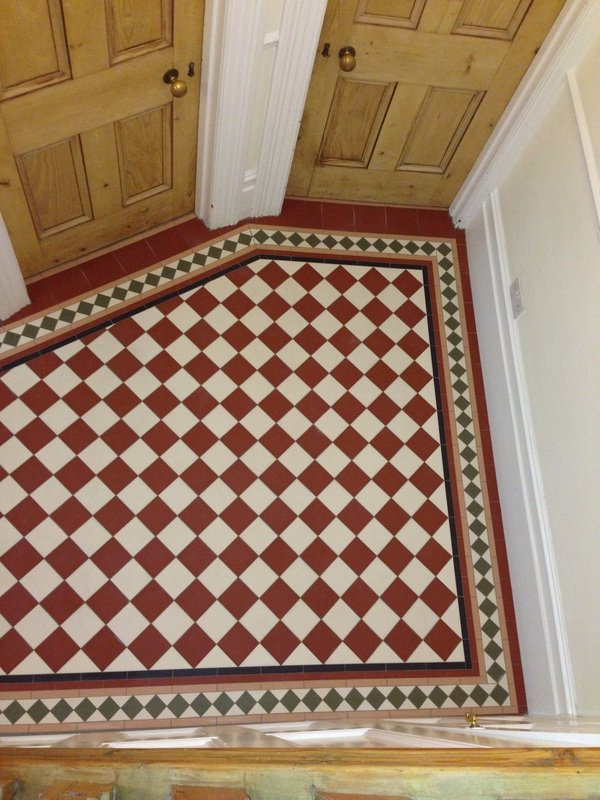 Product Information
Tiles:
Original Style's "Victorian Floor Tiles" range
Supplier:
Caversham Tiles
Primer:
Weber PR360
Adhesive:
Benferflex Rapido
Grout:
Mapei Medium Grey
Decoupling:
Dural Durabase CI++
Sealer:
Universeal Rapid All-in-One
Contact
David Larsen at Victorian Floor Tiles
Phone:
07817 087941
Web:
www.victorianfloortiles.com
Twitter:
@victoriantiles
Email:
david@victorianfloortiles.com