Case Studies
Hallway in Earley, Berkshire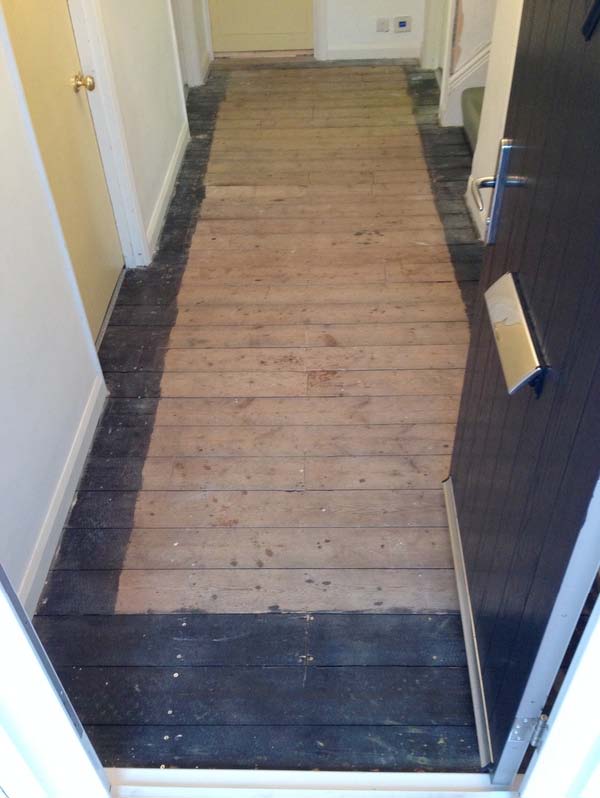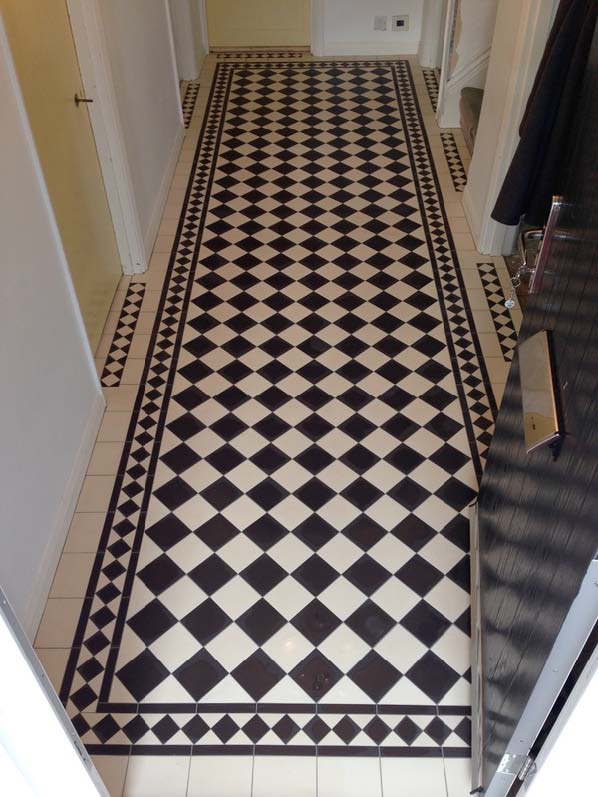 As Mr & Mrs C's 1920's home renovation project was substantially complete, thoughts began to turn to making a statement with the rectangular entrance hall. An internet search brought them to Victorian Floor Tiles' website where they were able to view examples of work and submit an initial enquiry.
David visited the property to discuss options. At first sight, the space looked good, although the walls were badly out of parallel and there were six door thresholds to consider. Measurements and calculations of various central field and border schemes were done, suggestions made and colours and patterns agreed.
"We decided on black and white to fit the period of the property, to match the entrance door and to ensure there was some light colour in the hall", explained Mrs C.
The first phase of the work was to screw down some loose floorboards, apply a primer and then adhere Durabase decoupling membrane to the floor. As the tiling was set out the issue of the out-of-parallel walls had to be addressed.
David explains, "I decided to remove a whole line of white tiles from the centre field because the border might have been too tight to the skirting".
This widened the infill between the border and skirting which isn't normally a problem but because of the number of door and stair recesses, a solution had to be found to break up the large blocks of single colour in those areas.
"I decided to introduce a reverse of the border in the door reveals and at the foot of the stairs as a complementary feature".
The work had to be done with Mr & Mrs C's twin toddlers in mind. This included keeping tools and materials out of reach at all times and using rapid setting adhesive and working in sections to guarantee Mrs C access to the kitchen, stairs and front door.
"We are extremely happy with our hallway floor and found David a pleasure to deal with", concluded Mrs C. "We would have no hesitation recommending him."
Product Information
Tiles:
Original Style's "Victorian Floor Tiles" range
Supplier:
Caversham Tiles
Primer:
Weber PR360
Membrane:
Dural Durabase C1++
Adhesive:
Benferflex Rapido
Grout:
Mapei Medium Grey
Sealer:
Universeal Rapid All-in-One
Contact
David Larsen at Victorian Floor Tiles
Phone:
07817 087941
Web:
www.victorianfloortiles.com
Twitter:
@victoriantiles
Email:
david@victorianfloortiles.com